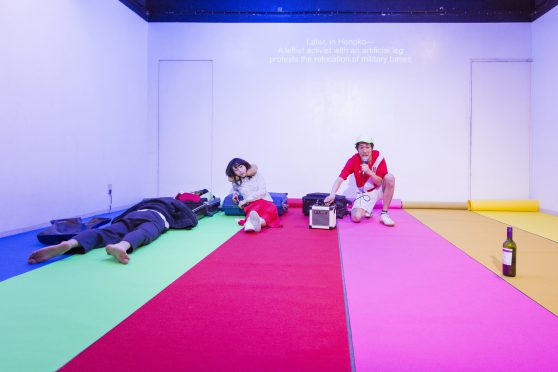 Okazaki Art Theatre『+51 Aviación, San Borja』Indonesia Tour
Biography Yudai Kamisato / Okazaki Art Theatre
Okazaki Art Theatre was founded in 2003 for the purpose of presenting both original and existing works under the direction of Yudai Kamisato. Born in Peru and raised in Kawasaki, Kamisato creates pieces that explore his own identity as well as wider political and social issues through a unique theatrical language. His recent works deal with such issues as immigrants and workers, the relationship between the individual and his/her nationality, as well as communication with others living in the same age. In 2006, Kamisato became the youngest person ever to win first prize in the Toga Young Directors' Competition. He was nominated for the Kishida Kunio Drama Award for three times and participated in Festival/Tokyo for the three consecutive years 2010 – 2012. Throughout 2016, "+51 Aviación San Borja" was invited to the Sydney Festival in Australia, Kunstenfestivaldesarts in Belgium, and Festival d'Automne à Paris in France. His new creation, written during his one-year stay in Argentina will be premiered in November 2017 at Kyoto International Performing Arts Festival, Kyoto Experiment.
http://okazaki-art-theatre.com/
About "+51 Aviación, San Borja"
Born in South America, in Lima, Peru, Yudai Kamisato directs the Okazaki Art Theatre and is the pacesetter of a young generation of Japanese theatre makers. In this September he is coming to Yogyakarta for the first time, with an inspired piece that delves into the roots of his existence. "+51 Aviación, San Borja" references his grandmother's address in Lima. Shifting between reportage and fiction, the narrative unfolds around places Kamisato has travelled, from Tokyo and Okinawa to his grandmother's Japanese-Peruvian community, encountering Japanese immigrant communities who have built new lives in locations where Japan still exists in memory as 'the old home'. Referring also to the life of Seki Sano, a dramaturge widely known as 'the Father of Mexican Theater', "+51 Aviación, San Borja" is an exploration of identity and the resilience of culture for those living in foreign lands. It will resonate with anyone who's ever felt the gravitational pull of 'homeland'.
Performance Details
Jakarta Performance
http://www.salihara.org/en/programs/theater/51-aviaci%C3%B3n-san-borja
Yogyakarta Performance
http://kedaikebun.com/theater-performances-51-aviacion-san-borja-okazaki-art-theater/?lang=en
Schedule:

Indonesia/Jakarta September 6th〜7th
Indonesia/Yogyakarta September 10th〜11th

Venue:

Salihara Community BLACK BOX THEATER (Indonesia/Jakarta)
Kedai Kebun Forum (Indonesia/Yogyakarta)

Credits:

Written, Directed and Stage Designed by Yudai Kamisato
Cast: Masahiko Ono, Wataru Omura, Mari Kodama
Technical Director: Ayumu Okubo
Lighting Director: Ryoya Fudetani
Sound Director: Masashi Wada
Stage Manager: Shuji Hamamura
Dramaturge: Hinako Arao
Production: Okazaki Art Theatre, precog
Presented by N.P.O. DRIFTERS INTERNATIONAL
Special thanks to KAKIKUUKYAKU, Shochiku Geino, The Japan International Cooperation Foundation
Supported by the Agency for Cultural Affairs Government of Japan in the fiscal 2017