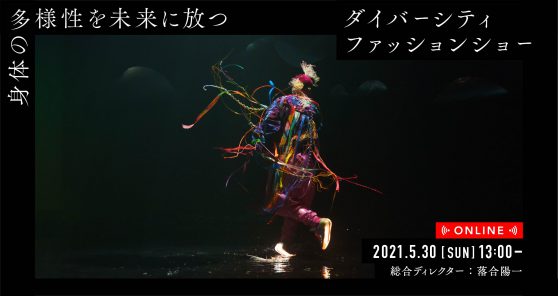 True Colors FASHION:The Future is Now!
True Colors FASHION presents The Future is Now! a series of presentations & dialogues about tech wearables and adaptive fashion, directed by Yoichi Ochiai
Clothing is a basic necessity, but at its best, becomes a form of self-expression called Fashion. Human bodies call for fashion that is designed to recognize individuality and updated by technology.
True Colors FASHION: The Future is Now! pushes the limits of fashion as we know it to create fashion pieces for diverse bodies, and empowered by technology. It will showcase adaptive fashion, becoming the launchpad for innovations and creations that expand on existing wearables such as prosthetic limbs and wheelchairs.
Directed by renowned media artist, Yoichi Ochiai, the show brings together some of the world's leading tech companies and fashion brands and a diverse cast of models, to present 11 creations in an electrifying fashion presentation and a series of insightful dialogues that reveal the power of the collaborative process.
[Creators]
Masatane Muto (with ALS) x 01 x ALS SAVE VOICE PROJECT
Tommy Hilfiger Adaptive x GIMICO, Kenta Abe, Noriko Kurihara, Masunoshin. 
Hirotada Ototake x OTOTAKE PROJECT x Yamato x KORI-SHOW PROJECT
Blade for All x Child Runners with Artificial Legs
Mari Azuma x Vintage Fashion x WHILL
GenGen x Live Jacket x KANSAI YAMAMOTO
Fumiya Hamanoue x OTON GLASS x beta post
Ryuchell x Pregnancy Belly Suit x MIKAGE SHIN
Kokone x Kotohayokozawa
Pippi x ontenna x ANREALAGE
---
【About】
True Colors FASHION:The Future is Now!
・Live streaming
May 30, 2021 1pm- (JST) 
Streaming website:True Colors Festival Official YouTube channel (Free, No reservation required)
Accessibility:  Japanese Audio guide, Barrier-free Japanese subtitles, Barrier-free English subtitles, Sign language
What's True Colors Festival?
True Colors Festival (TCF) presented by The Nippon Foundation is a series of performing arts events presented across geographies, in celebration of diversity and inclusion as "One World One Family."
True Colors Festival Special Page
・Archive streaming(Free)
June 2, 2021-
Full version :THEATRE for ALL 
Fashion show + Back stage interview :True Colors Festival Official YouTube channel
---
【Credit】
General Director Yoichi Ochiai
Performance, Participation| 
Masatane Muto (WITH ALS)
ALS SAVE VOICE PROJECT 
01 BORDERLESS WEAR
Ory Yoshifuji (Ory Laboratories Inc.)
ー
GIMICO
Kenta Abe
Noriko Kurihara
Masunoshin
Tommy Hilfiger Adaptive
Kaname Murakami(WWD JAPAN)
ー
Hirotada Ototake
OTOTAKE PROJECT
Takayuki Yajima (Yamato Co.Ltd.) 
ー
Mari Azuma
Masahiro Toriyama(WHILL inc.)
ー
Mino Tomooka
Daichi Sugimoto
Endo Ken (Xiborg)
ー
Pippi 
Tatsuya Honda (Ontenna)
Kunihiko Morinaga(ANREALAGE)
ー
Fumiya Hamanoue
Keisuke Shimakage (OTON GLASSES)
beta post
ー
GenGen
Live Jacket 
Kenta Takaya (KANSAI YAMAMOTO)
ー
Natsuko Kurasawa(Mission ARM Japan)
Akari Ishida(Mission ARM Japan)
Keisuke Nagami (HATRA)
ー
Kokone Igarashi
Nene Igarashi
Junko Igarashi
Kotoha Yokozawa (kotohayokozawa)
ー
Ryuchell
Shin Mikage (MIKAGE SHIN)
ー
Sound Hidefumi Kenmochi
Film Director bird and insect
Fashion Director Souta Yamaguchi
Hair and headpiece KUNIO KOHZAKI (W)
Hair and Make-up Yuko Aika (W)
Hair and Make-up (Ryuchell) Toshiko Arai
Fashion real condition Keita Tokunaga

Image Director shuntaro

Movie Director / Editor (fashion show) Shuma

Movie Directorn(interview) Tomonao Sakurayashiki

Cinematographer (fashion show)  Daisuke Abe Yusuke Hayashi Ryusuke Honda XIRAN ZHAO Kan Di

Cinematographer (interview) Yusuke Hayashi, Kan Di, Taichi Nagaoka

Editor (interview) Kyo Kuboyama
Sign Language Trnslator ERI NASU

Sign Language Supervisors HIDEAKI NASU

Sign Language Coordination TA-net

Japanese & English  Subtitles / Audio description / Sign Language Palabra
Photography/PR movie moron_non Genki Sato

Photography Ryohei Tomita Miyu Takaki
Production Manager Naoki Taichi Naho Kato (TASKO inc.)
Production Assistant Manager Honoka Kira Riho Onodera Harumi Kato Marei Kyotani
Graphic Design by SEESAW Inc.
WEB・PR image production   Yousuke Oda (TASKO inc.)
Sub audio recordung   Takahiro Yamamoto
Online Stage Manager Yuya Ito
Modelcasting CULTURAL LAB.
Accessibility Coordination THEATRE for ALL
Producer Kao Kanamori (DRIFTERS INTERNATIONAL)
Sponsorship Aputure Imaging Industries Co. Ltd
Cooperation Canon Marketing Japan Inc. Co-wardrobeWith KASUGAI SEIKA. MUJI Emohaus Inc.
Supported by Arts Council Tokyo (Tokyo Metropolitan Foundation for History and Culture)
Presented by The Nippon Foundation DIVERSITY IN THE ARTS
N.P.O. DRIFTERS INTERNATIONAL
Schedule:

Venue: