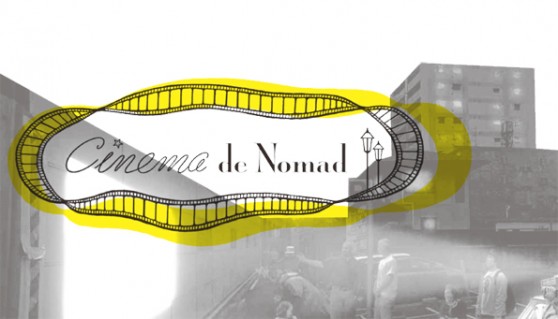 "Cinema de Nomad"
walls of buildings may turn into screens, shops and cafes into theatres,
 and the whole city into a cinema.  Cinema Jack & Betty, Yokohama's 
best art house, is hosting a unique film festival. 
Natsuki Seta×Shuta Hasunuma will be showing their most innovative 
new film, young architects setting up an experimental space, lots of art 
works of moving image popping up here and there – all these events will
 many people and things in the town to form important parts of the festival, 
and create films and experiences that cannot be obtained anywhere else.
Schedule:

"Cinema de Nomad" 2011/10/1(Sat) - 2011/10/7(Fri) 18:20 / 18:40 / 19:00 / 19:20 / 19:40 / 20:00 / 20:20 / 20:40

Venue:

inema Jack&Betty /nitehi works/ CROSS STREET

Ticket:

Cinema de Nomad「5windows」: 1000yen(advance)/1200yen(day)

8/9 ON SALE at 

•Cinema Jack&Betty reception counter

•e+※PCのみ

•VACANT店頭

• THEATRE PRODUCTS OMOTESANDO 4-6-24, Jingumae, Shibuya-ku, Tokyo JAPAN

Credits:

space design : noma( ITO Takahito/ FUJISUE Moe/ MORI Junpei)

supervisor: FUJIWARA Teppei

Collaboration:KAJIWARA Toshiyuki/ SETA Natsuki/ HASUNUMA Shuta/ SASAKI Yasuyuki / Koganecho area management/ Studio 402/ KATO Tsubasa / TAMURA Yuichiro

Venue cooperation: Cinema Jack&Betty /nitehi works/ CROSS STREET

助成:横浜市マザーポートエリア活性化推進事業認定事業 

Supported by the Culture and Tourism Bureau, City of Yokohama

Co-organizer:Cinema Jack& Betty

Organizer:/ SPECTACLE on the Bay 2011 Committee / N.P.O. DRIFTERS INTERNATIONAL
Related Topics
Artist and Venue

SETA Natsuki

Born inOsaka, Seta graduated from the graduateSchoolofFilmand New media,TokyoUniversityof the Arts in 2008. Her directorial work includes A Letter from Elsewhere(cast :Junpei Suzuki, Aki Asakura ) and What's Done is Done (cast :Erina Nakayama, Yusuke Fukuda).A Liar and a Broken Girl(cast :Aya Omasa, Shota Sometani )  is her debut in commercial films.Highly acclaimed in her picturesque style, Seta is one of the most promising up-coming directors in Japan.  

HASUNUMA Shuta

Born inTokyoin 1983, Shuta Hasunuma works on a diverse array of projects all centering on music, and is also the head of windandwindows. Having released numerous albums on the HEADZ label, his recent albums "OK Bamboo"(2007), "POP OOGA"(2008), and "wannapunch!"(2010) have received critical acclaim. While collaborating with a wide variety of artists such as Lyota Yagi, the contemporary dance duo HoHo-Do, fashion brand THEATRE PRODUCTS, he is also the conductor of his own orchestra/ensemble Shuta Hasunuma Philharmonic Orchestra, the leader of his band Team Shuta Hasunuma, and has been performing domestically as well as internationally. He is presently working on a new performance and installation project for the summer of 2011.

noma

Architects' unit noma was set up by Takahito Ito, Moe Fujisue (both fromYokohamaNationalUniversity) and Jumpei Mori (Assistant inTokyoUniversityof the Arts), the first students who completed Drifters Summer School. While centering on architectural design, they aspire to transcend the genre and create lots of works all around in town.

FUJIWARA Teppei

Born in 1975. He joined Kengo Kuma and associates(KKAA) after he graduates Master course, Faculty of Architecture inYokohamanational university at 2001. now he is a Design Director of KKAA. At 2008 he started to teach at design studio of Yokohama university faculty of architecture, from 2010 also started to teach at Tokyo University of Science. At 2009 he established Fujiwara Teppei Architects labo. Together with Kao Kanamori (Theater products) and Akane Nakamura (precog), he established an NPO Drifters International in October 2009.

TAMURA Yuichiro

Born in 1977 inToyama,Japan, Yuichiro Tamura graduated fromNihonUniversity,CollegeofArt, Photography Department. Currently he is a Ph.D. candidate atTokyoUniversityof the Arts, Graduate School of Film and New Media. Most of his works are based on a photography. His major work is a film "NIGHTLESS" (2010) created entirely with the images from Google Street View. He is a participating artist in the Tokyo Wonder Site Aoyama's Creator-in-Residence Program in 2010 (for one year).

KATO Tsubasa

born in 1984 inSaitama,Japan.

2007  B.A., Department of Painting,CollegeofArtandDesignMusashinoArtUniversity

2010  M.F.A., Department of Painting,TokyoUniversityof the Arts.

Selected Exhibitions and Projects

2010"Roppongi Crossing 2010" Kuma Kengo's Prize Recipient  Mori Art Museum, Tokyo

 Cinema Jack&Betty

 YokohamaKogane-cho still keeps this great small, twin-screen cinema. "Jack" is a revival theater featuring old films, directors and actors, and hosts film festivals time to time. "Betty," the other one, specializes in screening new films for single-theater release. The cinema is known for its excellent selection of good films that attract hard-core fans, and boasts membership of over 1,000 people. The cinema had been called "Yokohama Toei Meiga-Za" until 1991 when the building was rebuilt and re-opened, so its history expands as long as 60 years.

Other event

Theater that expands – "Cinema Night produced by Cinema Jack & Betty"

(free admission)

The filmgoers' favorite "Jack & Betty" will present a riverside open-air film festival. Try new movie / urban experience in the pleasant breeze and noise from the town alongO-okagawaRiver.

Experimental cinema – "Cinema lab"

 (admission to be announced on the official website)

A stroll-type of cinema will appear in Isezaki-cho and Kogane-cho. Artists gather there night after night for "Laboratory at Night," and look out for any border between the art and film. Participants include Yuichiro Tamura,  videographer who "collect fragments of information and reorganize them," and Tsubasa Kato who "drags down structures," along with many other prominent artists assembled for the event (names to be confirmed and announced on the site). What will come out of their creation is anyone's guess – come and join these spectacle nights!