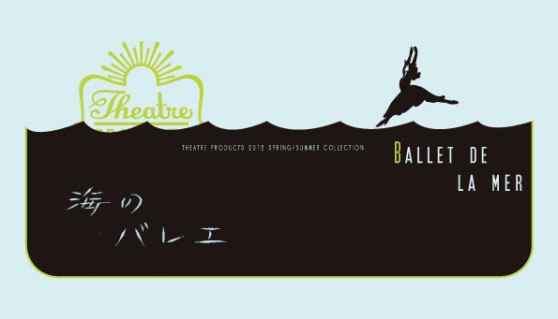 THEATRE PRODUCTS 2012 Spring/Summer collection "Ballet de la mar"
This is a site-specific fashion show at Nippon Maru, the symbol
ofYokohama, presented by Theatre Products. Led by a live performance
 of newly commissioned piece by Umitaro Abe,a Ballet Suite,
you are invited to the brass stairways,deck well-polished by coconut fruit,
 restaurant in the ship,and ephemeral movements of ballet born here and their in the vessel full of stories – nostalgia for journey and tales
of the ocean will take you where the clothes and dance are born.
Schedule:

2011/10/16(Sun) ①16:00 ②17:00 * Box office opens 1 hour before the show. / Doors open 30mins before the show.

Venue:

Ticket:

3300yen(advance)/3800yen(day)

8/9 ON SALE at 

● THEATRE PRODUCTS OMOTESANDO 4-6-24, Jingumae, Shibuya-ku, Tokyo JAPAN

●  LAWSON ticket center

Credits:

clothes : THEATRE PRODUCTS 2012S/S collection

music:ABE Umitaro direction・choreography: OKUBO Yuko stage manager:HOSHINA Michio(bon)

toal direction・produce:THEATRE PRODUCTS

graphic design:SHIRAMOTO Yuka

web design: ISHIGURO Rui

cooperator:公益財団法人 帆船日本丸記念財団 NOPPON MARU Memorial Park    ミヤキバレエ学園 miyaki ballet

organizer:有限会社シアタープロダクツ THEATRE PRODUCTS

joint sponsorship :港のスペクタクル実行委員会/ SPECTACLE ON THE BAY committee / NPO法人ドリフターズ・インターナショナル N.P.O. DRIFTERS INTERNATIONAL
Related Topics
Artist

THEATRE PRODUCTS

"A suit of clothes can change the world into a theatre" was the concept of THEATRE PRODUCTS, founded in 2001 by designers Alira Takeuchi, Taeka Nakanishi and producer Kao Kanamori. They have presented in the collections unique elegance of Japanese, where foreign-made and traditions are mixed. Their series of workshop "CUT&SEWN has toured

IndonesiaandIceland, and was also conducted at a class of Kyoto University of Art and Design.

 

NIPPON MARU

Nippon Maru was constructed in 1930 as the training vessel for a mercantile marine school. It had been actively on service for the 54 years until 1984, sailed a total of 1,830,000km (equals to 45.4 rounds of the earth), and brought up as many as 11,500 students. The ship came to be stored as it was at the stone-built dock of Minato Mirai 21 District, and has been open to the public. Lots of education programs are now held in the vessel to introduce wonderful things about the sailing ship, such as quick experience of marine life, or exhibition of all the sails.

 

ABE Umitaro

。Umitaro Abe was born in 1978. He studied atTokyoUniversityof the Arts and itsGraduateSchool, and majored in musicology at the graduateschoolofUniversityofParis. He has composed for a lot of Shakespearean plays directed by Yukio Ninagawa, as well as music and performance for fashion shows, TV CM and film music. He assisted Michael Nyman for the production of Erendira. He also played the piano, violin and pandeiro himself in his albums,  『6, Rue des Filles du Calvaire, Paris』(2007/THEATRE MUSICA) and『SOUNDTRACK FOR D-BROS』 , which have become long sellers.

 

OKUBO Yuko

After Asami Maki Ballet, Yuko Okubo began contemporary dance and has participated in many festivals abroad such as JULIDANSE Festival and others, with pieces by Kota Yamazaki and Akiko Kitamura. In 2002, she established a performance unit KATHY, and is in charge of the program and the direction. She also expands her activities to contemporary art, including the piece for Yokohama Museum of Art using a flock of pigeons, and has been invited to various art fairs inNew York,Basel,Paris,LondonandTaipei. She was also selected special guest to LISTE (Art BASEL), and more recently, she presented a piece at Hayward Gallery,London. Yuko also published a new theory about dance, "KATHY's New Dimension" from BEAMS.