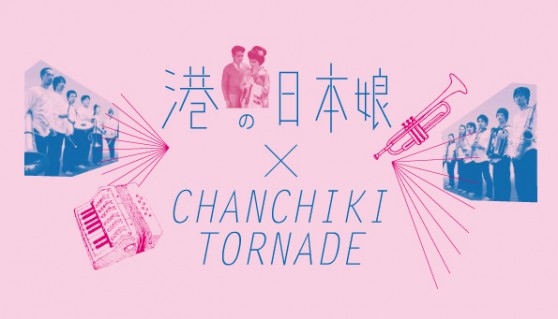 "Silent Film "Minato no Nihon Musume"× Live performance by CHANCHIKI TORNADE"
A masterwork of the silent film "Minato no Nihon Musume,"
 (1933, directed by Hiroshi Shimizu) depicting the beautiful 
exotic port town of Yokohama will be revived, 
this time with a live performance by Chanchiki Tornade, playing
 melancholic and progressive melody, composed by Takuya Honda in 2001.
 It is one of Honda's major works, and revival of the piece was long awaited.
 Don't miss this precious opportunity!
Schedule:

2011/10/9(Sun) ①19:30  2011/10/10(Mon) ②14:30 ③19:30 * Box office opens 1 hour before the show. / Doors open 30mins before the show.

Venue:

Ticket:

3800yen(advance)/4300yen(day)

8/9 ON SALE at

● CHANCHIKITORNADE

●LAWSON ticket center:http://l-tike.com/

Credits:

film:"Minato no Nihon Musume" directed by SHIMIZU Hiroshi

composer: HONDA Yuya (commission work for the 4th Tokyo FILMEX festival 2003) conductor :小鍛冶 邦隆 KOKAJI Kunitaka

演奏:CHANCHIKI TORNADE/ SUZUKI Hiroshi (Saxophone) OKUCHI Shunsuke (Piano, Keyboard) SAITO Kan (Flute) INOUE Nashie (Clarinet) EGAWA Ryoko (Saxophone) HIGASHI Ryota (Saxophone) SATO Shutoku (Trumpet, Flugelhorn) IMAGOME Osamu (Trombone) KIMURA Jinya(Tuba) AIKAWA Hitomi (Percussion) UEHARA Nanae(Percussion) KOBAYASHI Takefumi(Percussion)

guest : KIMURA Masanori(Contrabass)

acoustic:IGUCHI Hiroshi

stage manager :XXXXXX Namaefumei

映写技師/映写機:XXXXXX Namaefumei

design: SHIRAMOTO Yuka

design: ISHIGURO Rui

creative support: ABE Umitaro

cooperation:浜離宮アサヒホール/東京フィルメックス/本田文子 

production:HARADA Sawako (CHANTHIKITORNADE)

producer:KANAMORI Kao(N.P.O. DRIFTERS INTERNATIONAL)

co-organizer:Organizing Committee for Yokohama Triennale/Yokohama Musium of Art

organizer: SPECTACLE on the Bay committee / N.P.O. DRIFTERS INTERNATIONAL
Related Topics
Artist

 

HONDA Yuya(1977-2004)

Composer Takuya Honda was born in 1977. He began to learn the piano when he went to France in his childhood. After returning to Japan, he started to conduct orchestras and produce experimental 8mm films as well, and entered the department of composition at Tokyo University of the Arts in 1999. In August of the same year, he founded a brass orchestra "Chanchiki Tornade."In 2002, Honda created "Yokohama Melody," a piece for Yokohama City's PR campaign, and appeared in their CM, too. He studied composition under Kunitaka Kokaji, and received the 18th Japan Society for Contemporary Music Young Talent Award. He passed away in 2004.

 

CHANCHIKI TORNADE

Chanchiki Tornade is a 12-member brass orchestra, which also includes keyboards and percussions. It was founded in 1999 by composer Takuya Honda (1977-2004), with the students ofTokyoUniversityof the Arts at its core. While using the Japanese percussion "Chanchiki," Honda made a variety of music for them, boldly adopting such genre as super-speed Gypsy brass ensemble from the Balkans, Jazz from the US, Brazilian music, or Euro techno. The orchestra's flexible formation of instruments, each player's excellent technique, and their performance in unplugged, diversified locations have appealed to a lot of people.    

 

SHIMIZU Hiroshi(1903-1966)

Director Hiroshi Shimizu was born in 1903, acted mainly during the Showa Period. He placed great importance on "the spirit of taking real scenes," which defies artificial narratives, lines, acting and direction to the limit. Being contemporary with Yasujiro Ozu, the two belonged to Shochiku andShimizuworked energetically as one of the two maestros, realizing urbane modernism in the film. He directed a lot of movies at his golden period, including melodramas and comedies, but in later yeas he began to look after war orphans (from the Pacific War), and established his own production "Hachi-no-su Film," in which the children play major parts.