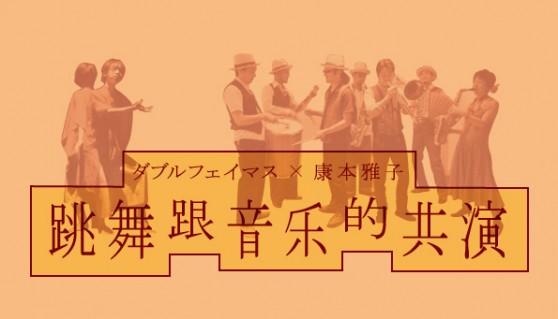 "Double Famous×YASUMOTO Masako in CHINATOWN(guest:OORUTAICHI)"
Comfy-relaxing music and cute-strange dance encounter in Yokohama's China town. 
The performance takes place at the new wing of Dohatsu Cantonese 
restaurant (currently closed), which will be open especially for this event.
 Musician OORUTAICHI will join as a special guest,so will see 
the first collaboration between multi-national music and non-national singing. The date coincides with China town's festival.
 The packed streets will bustle with the sound of flutes, drums, strange songs 
and crackers, dancing red lions and mollusklike beauties.
 Don't miss this rare chance.
Schedule:

2011/10/1(Sat) ①14:30 ②18:30 * Box office opens 1 hour before the performance. / Doors open 30mins before the show.

Venue:

Douhatsu new building(Yokohama CHINATOWN)

Ticket:

TICKET : 4000yen(advance)/4500yen(day)

8/9 ON SALE at (http://precog.shop-pro.jp/)

Credits:

lighting :MORI Yukinori

acoustic:IGUCHI Hiroshi

design:SHIRAMOTO Yuka

producer:NAKAMURA Akane(precog/ N.P.O. DRIFTERS INTERNATIONAL )、YAMAZAKI Mao (gm projects)

production:OKUNO Masanori (precog)、ASAGAMI Shiori (SPECTACLE on the Bay committee / N.P.O. DRIFTERS INTERNATIONAL)

ticketing: OUKI Tamiko(precog)

PR:YAMAZAKI Naoko(precog)

venue cooporation: Douhatsu New Buildong

organizer:precog、gm projects

joint sponsorship: SPECTACLE ON THE BAY committee / N.P.O. DRIFTERS INTERNATIONAL
Related Topics
Artist

YASUMOTO Masako

Masako Yasumoto began her dancer career in 1999 and has choreographed for herself since 2001. She also choreographs and performs for works of different genres, including theatre and films by Matsuo Suzuki, concerts and promotion videos by Hito To Yo, Yuzu and Schadara parr, and many other pieces of theatre, music, moving image, and fashion.

 

Double Famous

 Double Famous was formed in 1993. The band has drawn music from faraway islands, continents, gorges and street corners toward their place, and digested them with various kinds of music which the members had taken in voraciously time to time, and was poured forth to be called exotic music fromTokyo. As a dance hall band, they go wherever inJapanto their fancy.

 

OORUTAICHI

 OORUTAICHI started his career in 1999. He came to gain good attention from the audience with his unique style – putting impromptu and incidental non-verbal "song" on desktop music. His is active not only as a soloist, but also in various other fields, contributing music to lots of theatres and stage productions.

 

MASSAO

 MASSAO is a unit formed of Mao Yamazaki, Sohei Tsurutani and Ken-ichi Aono. Their career as DJs lasted more than 20 years and enriched the band's musical background. Together with their sophisticated sense also for the art, the band successfully creates sound that depicts scenes close to the listeners' eyes.